Everything You Need To Know About Celebrity/Influencer Boxing and Betting On It
Celebrity boxing lmatches have been going on for years, but recently with the explosion of the internet, influencers have created huge spectacles, watched by millions of fans, and walk away with seven figure purses. We are going to break down this new phenomenon and also tell you about fights to keep an eye on if you want to bet successfully.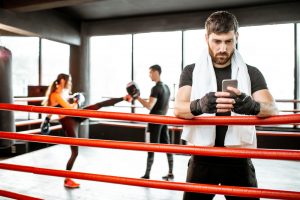 How Did Influencer Boxing Start?
KSI, who is one of the biggest YouTubers in the world with over 10 million subscribers, began training in boxing and quickly fell in love with the sport. He decided to challenge fellow Youtuber Joe Weller who also recently started boxing and was just coming off a win in his first amateur match.
The two agreed to box, and the fight took place at the Copper Box Arena in London on the 3rd of February 2018. The fight was heavily promoted on social media and featured both KSI and Joe Weller making videos abusing each other, and KSI even released a diss rap song. KSI ended up winning the contest, but the astonishing thing about the bout was the size of the audience. Over 20 million people from around the world tuned into the match and both Joe Weller and KSI instantly made millions of dollars.
While this fight was a huge success it was only the beginner and ushered in a new era of celebrity fighting. Following the match KSI called out the Paul brothers, and Logan Paul quickly accepted the contest. Their fight took place in Manchester, England, at the Manchester Arena. The fight was again another huge success, and it is estimated both Paul and KSI earned over $5 million for their fight and the event generated over $100 million in revenue making it the largest amateur sporting boxing match of all time.
Once boxing promoters and other celebrity influencers realized that KSI had come up with an extremely lucrative and repeatable formula, they wanted in on the action too. Now influencer boxing fights are becoming increasingly common, especially in 2021. This year we have already seen some incredible events, including Jake Paul defeating former MMA standout Ben Askren and Logan Paul going the distance with the legendary multi division champion Floyd Mayweather. Based on the success of these events you can expect to see many more influencers lacing up the gloves and throwing jabs and hooks.
Are Influencers Good At Boxing?
Betting on influencer boxing has become fairly popular. But is it worth it? Boxing purists have criticized these recent influencer boxing contests because they believe these Youtubers lack the skills of professional boxers. While YouTubers like the Paul brothers and KSI could not compete with world champions, who have been boxing since they were children they do show promise and a high level of skill for athletes who have only been training for a few years. 
Jake recently proved this by knocking out former MMA champion Ben Askren. While Ben Askren is not known for his striking prowess as he was a formidable wrestler who still has been striking for over a decade and has fought against high level strikers in professional MMA contests. Logan took this even further by managing to last a full 6 rounds with Floyd Mayweather who many thought would knock him out quickly. While Logan did have a significant size advantage, and many accused Floyd of taking it easy, Logan showed some real skill in that contest.
Joe Rogan recently weighed in on the topic and stated that he believes both Paul brothers have the potential to become high level boxers. He has been particularly impressed with Jake, who he believes could one day work himself into contention for a world title shot. Rogan may be a little bit optimistic, but there is no doubt that Jake Paul is turning himself into a skilled boxer.
How Do You Bet On Celebrity Boxing Contests?
Millions of fans don't just watch these influencer boxing bouts, but they also attract gamblers worldwide. All major sportsbooks offer extensive betting markets for all influencer contests. To place a bet, you simply need to create an account, deposit some cash and navigate to the boxing section. Sportsbooks allow you to make a range of bets on influencer bouts, including placing money on the bout's outcome, over/under bets on how long the match will last, and predicting how the fight will end (decision, DQ, or knockout). 
These matches are definitely a risky bet as they are highly unpredictable as it is not clear how good at boxing some of these influencers are and the athletes they choose to compete against are not always in shape. We recommend you perform thorough research before betting on these events.
What Is The Next Big Influencer Match To Bet On?
The next big influencer boxing bout will take place between Jake Paul and former UFC welterweight champion Tyron Woodley. This should be an amazing fight as this is the first time Paul is taking on a legitimate striker who possesses power and some serious hand speed. However, some critics are voicing their concern as Tyron Woodley is about to hit 40 years old and lost 4 of his last UFC bouts. Paul's management and team are secretly hoping that Woodley is a shot fighter and that Paul can knock him out and further legitimize his boxing career.